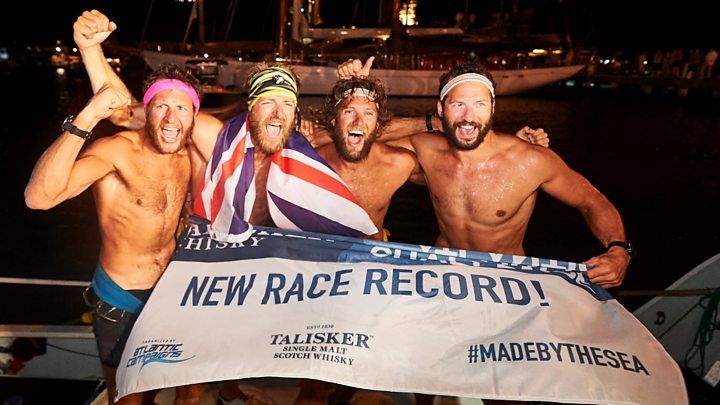 Four amateur rowers are believed to have set a new world record for the fastest crossing of the Atlantic Ocean.
Friends George Biggar, Dicky Taylor, Peter Robinson and Stuart Watts spent 29 days and 15 hours at sea during the 3,000-mile crossing from the Canary Islands to the Caribbean.
The men were met by family and friends in Antigua just after 02:00 GMT.
They beat the previous Talisker Whisky Atlantic Challenge race record of 35 days and raised £250,000 for charity.
The quartet will donate the money to mental health charity Mind, in memory of Mr Biggar's mother Anne Fisher who died aged 54 in 2011, and Spinal Research, in support of Mr Robinson's friend Ben Kende who suffered a spinal cord injury while playing rugby for Hong Kong in 2010.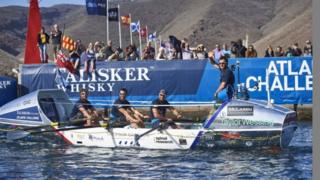 Speaking moments after arriving in English Harbour in Antigua, Mr Biggar, 32, a property lawyer from London, said: "It's amazing to complete the row.
"We set out with it as a charity initiative for two charities.
"For me personally, the Mind element is commemorative for mum who struggled with mental illness through her life.
"I always felt a need and desire to do something to commemorate mum, and to bring that to fruition and to complete it - to do it such justice in such style with such great support is amazing."
The quartet - who were known as The Oarsmen - were expecting to take 40 days to complete the row but families of the crew had to rebook flights to greet them as they progressed well ahead of schedule.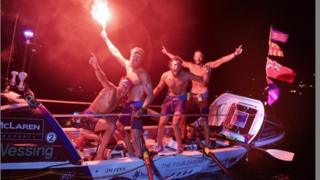 The previous record was set last year by Anglo-American quartet Latitude 35, in a time of 35 days.
Mr Biggar, Mr Robinson, a 32-year-old farmer from Alnwick in Northumberland, Mr Watts, a 34-year-old account director from Gloucester, and Mr Taylor, a 32-year-old IT consultant from Corbridge in Northumberland, led the 25-boat fleet from very early on in the race.
They battled sea sickness, 40ft waves, hallucinations and chronic fatigue, but had their spirits lifted through a chance encounter with a minke whale and a calf which swam underneath their 26ft fibreglass vessel in the middle of the ocean.
Race organisers said they believed the quartet completed the fastest Atlantic row of all time, as well as in race history.