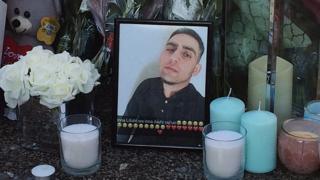 Police have said they will target gangs to tackle a recent spate of stabbings which have left two men dead in the space of six weeks.
About 300 people attended a meeting in Luton on Wednesday evening, between the police, the community and the council.
It was called after Waryam Hussain, 20, died from a stab wound in Luton on 6 May and Azaan Kaleem, 18, was stabbed to death in the town in March.
The police promised to work with the community to solve the problem.
Shirley, a mother of twin 18-year-old boys and a 14-year-old, attended the meeting as she is "scared every day" and wants "something done" in schools.
She said: "Kids going into school - they do not know who they are sitting next to, if that child has a knife in their pocket.
"I can only go by my experience and it started with my boys in school, and not at home or on the road."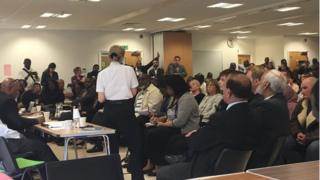 Dr Jackie Sebire, Assistant Chief Constable of Bedfordshire Police, said: "There were a lot of voices, a lot of concerned people, a lot of angry people, but lots of ideas have come through.
"It is now taking it forward and the community leading some of the responses."
She said the force will investigate all options and "we are looking at mentoring [and a] gang intervention programme".
"[We are] looking at those role models within the community for people to speak to them," she said.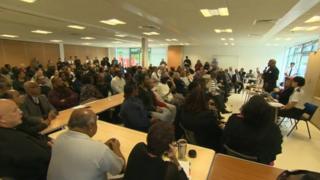 Another man at the meeting stood up and said: "We need to rise up, each one of us and take responsibility for our community, for our young people."
ACC Sebire said: "We are here, we are talking, we are not hiding and we are trying to confront what is happening to us."