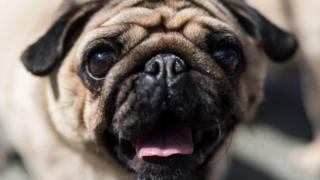 A charity dog event has been cancelled due to poor ticket sales leaving organisers "extremely gutted".
The West Midlands PugFest World Cup event was due to be held on Saturday at Stoneleigh Park, Warwickshire.
Posting on social media, organisers said they were expecting at least 2,000 attendees, but had only sold 271 adult and 67 children's tickets.
Bosses of the non-profit event said those who had bought tickets would be refunded.
The event was due to include pug-themed stalls, a dog show, food, competitions, pug five-a-side and guest appearances from former England players Peter Shilton OBE and Paul Merson.

Almost 4,000 people attended last year's event and organisers had hoped for a similar turnout this year.
In a statement, PugFest said: "We are a non-profit event, raising money for pug welfare groups, so you can imagine we cannot cover a huge loss like it would be if we went ahead."
It added: "Again we're very sorry and extremely gutted as we have put an awful lot of time and effort into this event."