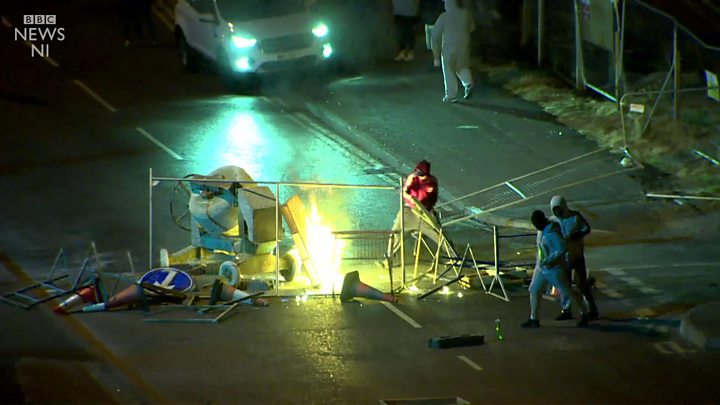 Police have fired plastic baton rounds during one of the worst nights of violence in Londonderry for years.
Seventy-four petrol bombs and two improvised explosive devices were thrown at officers on Thursday - the sixth consecutive night of violence.
The police said children as young as eight were involved and accused dissident republicans of being behind the attacks.
Three men were arrested, one of them for attempted murder.
The PSNI said the six nights of violence in the city had seen two separate attempts to murder officers.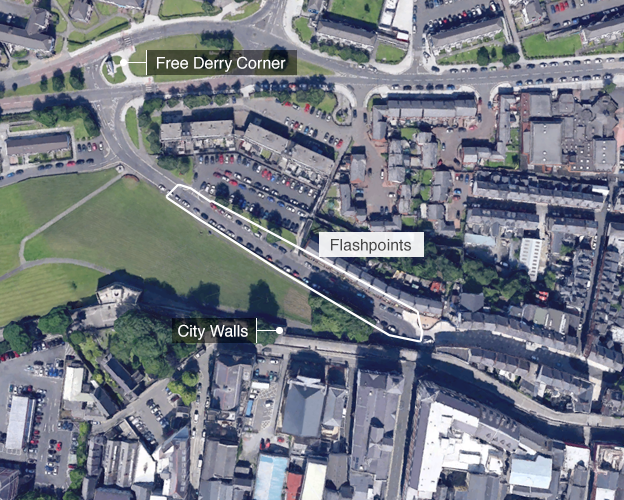 A Twelfth of July parade passed off peacefully in Derry on Thursday, although police in riot gear separated a group of nationalists from the return parade as it made its way through the Diamond in the city centre.
Attacks began early in the evening and continued into the early hours of Friday morning.
Petrol bombs were thrown towards police Land Rovers and at officers on the ground.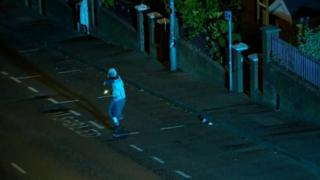 Makeshift barricades were built and set alight on the Lecky Road flyover and on Fahan Street, while police closed sections of the walls overlooking the Bogside.
'Strategically stupid'
Senior PSNI officials said it was "a miracle" that officers were not injured.
"I am saddened, disheartened and frustrated that yet again police officers committed to keeping this local community safe have been attacked by a small number of people within it," said Supt Gordon McCalmont.
"While we have seen many young people involved in these attacks over the last number of nights, it is clear that this is being orchestrated by a more sinister, adult, violent dissident republican element.
"This cannot continue. This must end now."
Secretary of State Karen Bradley said the "intolerable violence by a small minority" was completely unacceptable as she voiced her support for police efforts to bring an end to the unrest.
DUP leader and former first minister Arlene Foster said: "Really disturbing scenes last night in Londonderry. Someone will be killed if this continues."
SDLP leader Colum Eastwood said the violence was only succeeding in "terrifying people in their own homes".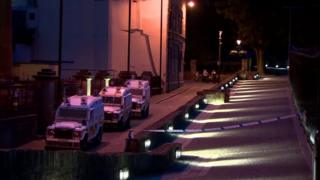 "These people who are supposedly republicans, who are supposedly trying to get a United Ireland are destroying their area," he said.
"Now, I don't know how many times we have to learn this lesson that this does not work.
"It's not only morally reprehensible, it's strategically stupid."
Sinn Féin's Elisha McCallion said "sinister elements" were spurring on and controlling the violence.
"People in the Bogside were afraid for their lives last night," she said.
"This has gone beyond recreational rioting, this is disgraceful and those involved in it and indeed those behind the scenes stirring up this type of activity, need to catch themselves on."
On Tuesday, police said dissident republicans were responsible for automatic gunfire directed at officers.
On Thursday, two viable devices were thrown at officers on Derry's walls, police said.
Supt McCalmont described that attack as a "reckless act" that showed "a blatant disregard for life".