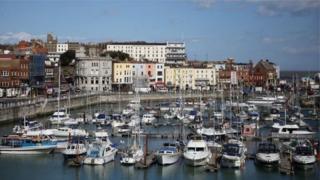 Four suspected Iraqi nationals, including a child, have been discovered in a fishing boat drifting 8.5 miles off the Kent coast.
Two men, one pregnant woman and a child were on board the boat, which was towed by the RNLI into Ramsgate Harbour.
Two British men, aged 38 and 67, who were also on board, have been arrested on suspicion of immigration offences.
Border Force said the migrants, who presented themselves as Iraqis, have been interviewed.
They are being dealt with "in line with immigration rules" after being discovered on Thursday.
A third British man, aged 20, was found on the quayside at Ramsgate and has also been arrested on "suspicion of facilitating a breach of the UK's immigration laws", the Home Office said.