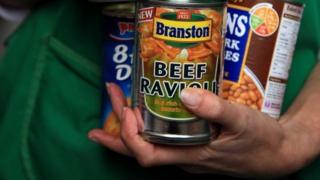 "Despicable" thieves who stole about £2,500 worth of nappies and sanitary products from a food bank have been criticised by community leaders.
Staff were said to have "burst into tears" after the theft from the Mocha Parade food bank storage unit in Lower Broughton, Salford.
Tom Togher, of Salford Citizen's Advice, said staff were "stunned" anyone could "sink so low".
Salford's mayor Paul Dennett said those responsible "have no conscience."
Salford City Council said the theft, which happened some time last week, had been reported to police.
Mr Dennett said: "This is one of the most despicable thefts I have ever come across.
"Those responsible must have known the items were there and planned this theft because we believe they used a van to carry away their haul.
"It beggars belief that people would sink so low as to steal from a food bank.
"To also steal sanitary pads, tampons and nappies donated to help women and children struggling to maintain their personal hygiene and dignity shows these people have no conscience."
The council said it was arranging new, more secure storage for the food bank and had set up a collection point at the civic centre for anyone who wanted to help replace some of the stolen items.