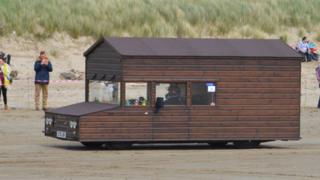 A motorised shed has broken its own land speed record on a Welsh beach for the second time.
The wheeled building, dubbed the Fastest Shed, clocked 101.581mph (163.487kph) at Pendine Sands, Carmarthenshire, during a speed event.
In May, the shed - driven and built by Kevin Nicks - managed 101.046mph (162.617kph) on the same sands.
The record at Sunday's Straightliners event came three months after the shed's engine exploded during a race.
Mr Nicks, 54, from Chipping Norton in Oxfordshire, said: "It's a good result. I had to start all over again when its engine blew up, and then had three months solid of mechanical problems.
"Because I've had so many issues I didn't want to absolutely cane it. I went a bit steadier because I was afraid it would blow up again.
"But despite that I've managed to set a new record, and I'm absolutely delighted."
He said it was not a huge gain but was still a record, adding: "Only just beating it will allow me to come back and try to beat it again."
Mr Nicks has spent more than £13,000 creating the shed, which boasts a turbo-charged 400 brake horsepower engine.
The shed initially set a record of 80mph (128kph).
Pendine is famous for its land speed records, most famously with Sir Malcolm Campbell's world records in his Blue Bird racing car in the 1920s.